Equipment
Hi-Spec Tooling Equipment and Capabilities…………..
Hi-Spec Tooling uses machines such as the HAAS VF-3 CNC Mill with 4th Axis Capabilities, the HAAS SL-30 Lathe with a 12 tool turrent and many more machines with full Tool & Die and Machine Shop capabilities.
Day in and day out our quality machines allow for close tolerance and total quality. Tru-positions of .0005 are no problem with our experienced and talented crew working with state-of-the-art machines.
We are a modern shop with old-fashion values. Each part we produce is fully inspected by our staff and no part leaves our building without being 100% inspected. We at Hi-Spec Tooling are committed to total quality and customer satisfaction. Our reputation depends on it.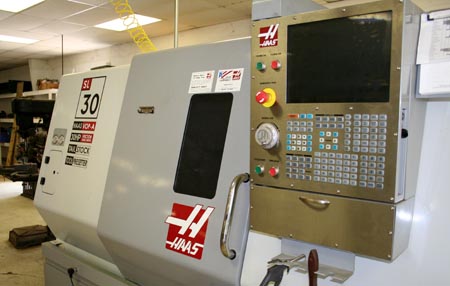 Our equipment allows us to work on "one-off" items as well as mass production orders.
We offer but are not limited to:
*Boring
*CNC Milling
*CNC Turning
*Drilling
*Etch and Engrave
*Cutting
*Grinding
*Tapping
*Manual Milling
*Manual Turning
*Slotting
*Welding including MIG,TIG,Aluminum, and Stainless
We work with the following materials but are not limited to:
*Aluminum
*Copper
*Brass
*Teflon
*Extrusion
*Paraffin
*Nickel Alloys
*Bronze
*Plastics
*Steel
*Stainless Steels
*Ultraseal
*Peek
And Much Much More……….